Growing food for your family is easy - we'll show you how.
Franklin, get everything you need to start growing your own kai with a free Seed to Feed garden starter kit. Just register online and we'll be in touch to confirm which Thursday morning - from late October thru November - your kit will be ready for collection.
What is in the Seed to Feed starter kit?
The kit includes everything you need to get started with veggie gardening.
A vegetable seedling
A six-pack punnet of mixed green vegetables and lettuce
Six packets of seeds
Seed raising mix and a tray
A trowel
Gardening gloves
A guide to getting your garden started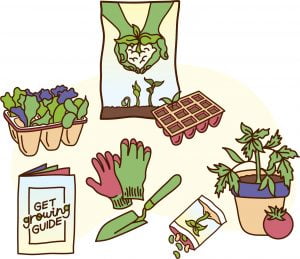 When are they available?
Spring is the perfect time for planting your new vegetables, so Seed to Feed starter kits will be available to collect on Thursday mornings throughout late October and November.  We'll allocate kits as registrations come in and will let you know which date your kit will be available. 
What if I don't know how to garden?
First time kai cultivator? No problem, we're here to help you get your garden started. When you pick up your Seed to Feed starter kit we will have stations set up showing you things like how to plant your seeds and seedlings, how to deal with garden pests like slugs and snails, suggestions for planting on a budget. We'll also the gardening guru's from our team on hand to answer any other questions you might have.
Ready to grow kai for your whanau ?
Register now for a Seed to Feed starter kit and we'll be in touch with info about when your kit will be ready to collect.